Raymondville accepts donation of Sierra Title Co. building
Oct. 27, 2021
Raymondville city commissioners on Tuesday accepted the donation of the Sierra Title Co. office at 565 W. Hidalgo Ave.

Former Harlingen mayor Connie de la Garza, a longtime realtor and current chairman of the board of Sierra Title Co. along with Sierra's president Neel Fulghum, announced the donation of the building and large parking lot and handed over the deed to the property.

Fulghum said earlier on Tuesday that three employees who worked there have accepted transfers to another of the company's offices at 1225 N. Stuart Place Rd. Harlingen.

De la Garza, a native of Raymondville, said that Glenda Miles of Sierra Title purchased the property from Carl Conley in 2006 and the purchase included Mr. Conley's title company.

Neel Fulghum, president of Sierra Title, brought up the idea of the donation to the city with John King of McAllen, chief executive officer and founder of Sierra Title last spring and De la Garza was informed. After several discussions, the idea was presented to the board of directors which unanimously approved the decision to donate the property, the company said in a news release.

Fulghum and De la Garza approached Raymondville Mayor Gilbert Gonzales and City Manager Eleazar "Yogi" Garcia with the idea. They agreed to accept the property donation and city commissioners agreed to the idea Tuesday.

The office and parking lot being donated is adjacent to and west of the city's fire station. The fire department has been using the parking lot with Sierra's permission.

"Connie de la Garza was born and raised in Raymondville and he is proud to have a part in the donation" the company said in a statement. "Sierra Title will continue to serve Willacy and Kenedy Counties through its Harlingen offices at 1225 N. Stuart and 1902 E. Harrison Ave."

Fulghum said earlier that computer technology and other changes makes it easier to serve Willacy customers from the offices in Harlingen.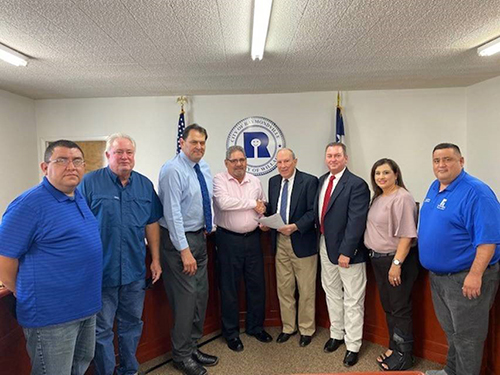 It is with great pleasure that we announce we have donated our Sierra Title Building to the City of Raymondville. We still continue to examine and close for Cameron, Willacy & Kenedy Counties.

More News