Sierra Title Inc. of Hidalgo County Hosts Annual Tamalada View Pictures
Nov. 14th, 2018
On November 14th, the official 2018 "Holiday" kickoff was welcomed with the annual Tamalada party hosted by Sierra Title of Hidalgo County, Inc. in McAllen, Texas. Almost 900 guests, that included County Officials, Realtors, Bankers, and Attorneys from throughout Hidalgo County, attended the festivities. Large brightly colored pinatas hung from the ceiling of the huge white tent. Table decorations of handmade colorful paper flowers and figures of dancing Senoritas made of tamale husks adorned the tables. Large dishes of chips and red and green salsas were also on the tables adding to the bright colored decorations. The weather was perfect as the sun was out but the temperature was cool. A picture-perfect fall day in the Rio Grande Valley of Texas!
Employees of Sierra Title of Hidalgo County Inc. greeted the guests and served lunch to them. Lunch consisted of chicken and pork tamales, rice, and beans. Pan de polvo cookies, that are a traditional dessert at a fiesta, were served for a sweet ending to this delicious traditional fiesta event.


Oversized, hand painted photo-booth frames were available so that the guests could have their photos taken with friends and co-workers. Some photo-booth frames were decorated so that the photos of the guests would be framed by large colorful flowers, as if they were standing in a Mexican jardin. Other photo-booth frames allowed guests to become a dancing "Senor" and "Senorita". By standing behind these frames, that were painted with decorative figures of a dancing man and a dancing woman, and by pacing their faces into the precut holes in the frame and then smiling at the camera, the guests became a dancing "Senor" or "Senorita". Numerous pictures were taken that would mark this festive and celebratory occasion.


Registered guests won prizes such as T-shirts, Sierra Title beverage koozies and baseball caps that were given to those guests had their name called out after drawings were held throughout the fiesta. Additionally, a DJ played music throughout the afternoon.


Our annual Tamalada fiestas are our way of saying "Thank You" to everyone who has helped to make Sierra Title of Hidalgo County, Inc. successful throughout the past year. We love serving the communities throughout the Rio Grande Valley with their Title needs. We look forward to serving the people of Hidalgo County for many years to come.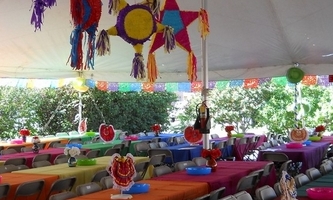 More News