The WCR of El Paso, Texas hosted the 1st annual Margarita Shake-Off Contest View Pictures
May 31, 2018
The Women's Council of Realtors of El Paso, Texas hosted the 1st annual Margarita Shake-Off Contest. This contest was held on the evening of May 31, 2018. Approximately 50 people attended this fun event. Ten contestants were invited to submit their own special Margarita Mix beverage for competition taste testing. Six contestants participated in this enjoyable event. Contestants were from various companies from throughout the El Paso Texas area. Participants included employees from Sierra Title Company, Inc., various mortgage companies and realtors and an auto detail shop. Each contestant was asked to bring two (2) gallons of their own original Margarita Mix for the judges and the crowd to taste. The Woman's Council of Realtors provided the food which consisted of Mexican food from the Carnitas Queretaros Restaurant. The judges, who were unknown to the crowd, did a blind taste test. After 2 hours of judging the tasty beverages, the winner, Tyler Gonnell, from Sierra Title Company, Inc. was announced. She won using fresh ingredients with her favorite "Mangorita" recipe. Tyler received a basket containing Margarita Mixes, crackers, dips, cheeses and a pair of Margarita Glasses.



This event was a great opportunity for our employees to get together with people from the area and network ideas on the mortgage title industry.



The Woman's Council of Realtors posted a photo of Tyler Gonnell with her prize basket on Facebook. Tyler and Sierra Title Company, Inc. will now have bragging rights for having the best Margarita Mix Beverage recipe for the next year. Congratulations Tyler and Sierra Title Company, Inc.!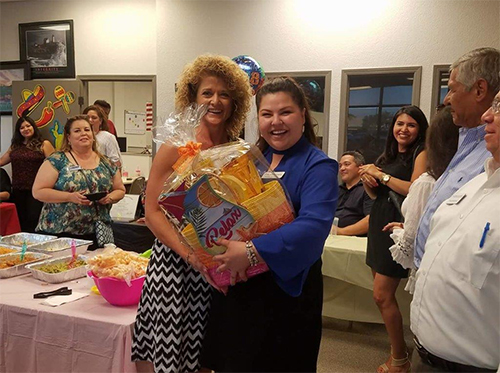 More News